I am very excited to be looking at guided reading this summer. Along with some fabulous bloggers, I'm participating in a book study on Jan Richardson's
Each week there will be a host who will have a giveaway or freebie! You will also be able to check out everyone's thoughts using the link up at the bottom of this post.
This week's host is Jennifer from Teaching with Grace. Make sure you stop by her blog to check out her giveaway!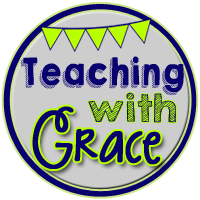 We will be using these 5 questions to guide our reflection:
What part of the reading caught your attention?
How do you already incorporate this into your guided reading routine?
What is something new you want to try next year? How do you want to make your guided reading time better or what new things do you want to try?
What are some resources that you already have that you can use to teach what you read about in this chapter/section?
What are some new resources that you want to get or try to use to teach what you read about in this chapter/section?
Chapter 1 presents an overview of preparing for Guided Reading. Richardson presents the components of Balanced Literacy and the Reading Workshop framework. She then goes on to discuss preparing students for participating in Guided Reading , literacy activities/work stations students can be engaging in during this time, and setting up a Reading Notebook.
1. The part that caught my attention the most was the Reading Notebook. I want a place that can hold all of my students' reading related materials. My team has been using notebooks and since I'm the new person joining them, I will be following suit. Richardson suggests having 5 sections: independent reading record, independent reading response, guided reading notes, notes (from mini-lessons, shared reading, read-alouds), and a new words list. I'm not too sure how I will be setting up my students' notebooks. I definitely want them to have a place to record what they read and a response. I want to use interactive notebooks, so I don't think I'll need a notes section and I'm planning to do Words Their Way so I'm thinking that new words will go with their word study. Any ideas on this?
2. I already have my students record what they read and a quick response. The forms aren't the prettiest, but they're used by the grade level.
3. I want the notebook to be a true reflection of their reading progress. One of my teammates wants to add a goals section and I love that idea. I also want to make sure that their reading notebook remains organized, current, and resourceful.
4. Some resources that I already have are the grade level independent records sheets and reading response sheets. I also would like to use my Tic Tac Toe Reading Logs to give kids a variety of ways to respond to the text.
5. Resources that I would like to use are a variety of forms for the Reading Notebook. If you have anything that would work for this please let me know so I can check it out!